Vertical Self-Clean Filter With Motor Reducer - VRF
The filter body is St-37 or stainless-steel optionalityThe filtering in pressured linesHigh performance during the back washingExtensive Filtering SurfaceEasy-to assembly and fitler components, not required to change100% back washing performanceThe back washing time for 50-30 sec.Working opportunity, not required additional energyThe minimum head and water loss
GENERAL CHARACTERISTICS
Body Material: S195T / SS 316L / SS 304 L
Screen Material: SS 304L, PA6GFR30
Maximum Working Pressure: 10 Bar (145 PSI)
Minimum Working Pressure: 1 Bar (15 PSI)
Maximum Working Temperature : 60 °C (140 °F)
Back Flush Operation Criteria: Time and / or Pressure Differential
Back Flush Controlling Unit : Electronic (AC) Control
Filtration Degree: 20-2000 micron (µ)
Painting Method: Electrostratic Powder Coating
Painting Material: Epoxy Polyester
Technical Specification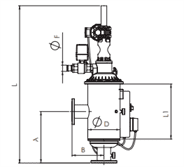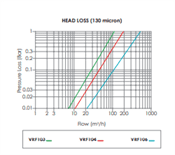 CODE
INLET/OUTLET
A
B
L1
L
D
F
DRAINAGE FLOW
FLOW
FILTER SURFACE AREA
NOZZLE
SIEVE
WEIGHT
inch
DN
mm
inch
m³/h
cm²
pieces
kg
VRF102 CVRF102
2
50
390
270
365
1120
10
2
12
40
1317
2
2
42 36
VRF1025 CVRF1025
2½
65
390
270
365
1120
10
2
12
50
1317
2
2
43 37
VRF103 CVRF103
3
80
390
270
365
1120
10
2
12
55
1317
2
2
44 38
VRF103S CVRF103S
3
80
440
270
465
1220
10
2
18
70
1975
3
3
47 41
VRF104 CVRF104
4
100
440
270
465
1220
10
2
18
100
1975
3
3
49 43
VRF104S CVRF104S
4
100
490
270
565
1320
10
2
12
120
2634
4
4
51 45
VRF105 CVRF105
5
125
590
287
765
1520
10
2
18
150
3951
6
6
56 49
VRF106 CVRF106
6
150
590
287
765
1520
10
2
18
160
3951
6
6
58 51
Working Principle
Water, entered from input collector, passes to multistory screen filter inside the water (3). It is protected with a rough material with screen over of multiplex screen. The thin filter goes to output collector side (2). Particles, collected on multiplex screen, constitute a pollution layer over of the filter and a pressure difference in the outside collector. This pressure difference open a back flushing unit washing decharge valve (9) and a powerful back flushing flow consists from decharge pipet o atmosphere (10). This flow cleans the particle lavyer, collected on filter by creating a vacuum from holes over of nozzle (5).

The dirty water, absorbed on multiplex filter, creates a volution by passing from water cleaning nozzle pipe (6) and hydraulic turbine (7). The pressure loss, consisted of turbine container (4) and plunger dreinage (9) constitutes an axial movement. The spiral headway, constituted by this axial and volution together, obtains the absorbing whole filter surface by vacuum nozzles.

When this process is done, the cleaning collector makes a second back flushing with warns with its warning switches and turns its first position. Transaction is completed.

During the back washing, the filtration process contiunes and after the backwashing process, the filter stands by until next pressure difference signal.